About
A fall down the stairs, a car accident or surgery: many of life's events leave their marks as small or large scars. Nearly everybody has one or even more scars to remind him of such situations. Scars cannot only cause considerable pain when near joints and hinder mobility, but can also reduce self-confidence particularly when located on visible parts of the body.
How scars are formed
Scarring is a natural process
that happens when the skin repairs itself, for example from a cut or an abrasion. (also see:
Instant Help Cuts and Grazes
)
They occur when the outer layer of the skin, the epidermis is cut and the injury extends to the dermis. The organism is not able to replace the destroyed, highly specialised tissue in the same way.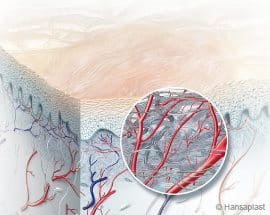 Wound closure with newly formed, pink skin and vessels © Hansaplast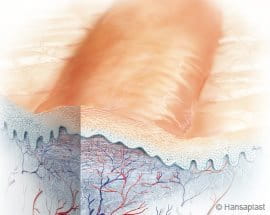 Raised or hypertrophic scar; © Hansaplast
Instead, the wound is "repaired" with connective tissue:
In order to heal this wound or injury, the body produces a larger quantity of collagen to repair the broken and damaged skin tissue. Collagen serves to 'bind' the broken skin together, helping to close and heal the area.
AS SOON AS YOU GET A
MINOR WOUND OR SCRAPE,
YOUR BODY WILL START
HEALING IT.
Even after the wound has healed the body continues to direct collagen to the site resulting in changes to the size and shape over time. The resulting scar does not have good blood circulation, is sometimes uneven and is less elastic.
Scars can sometimes be raised areas (hypertrophic scars) or have a sunken appearance, depending on the damage done to underlying layers of skin and tissue. Also, variations in colour are possible.